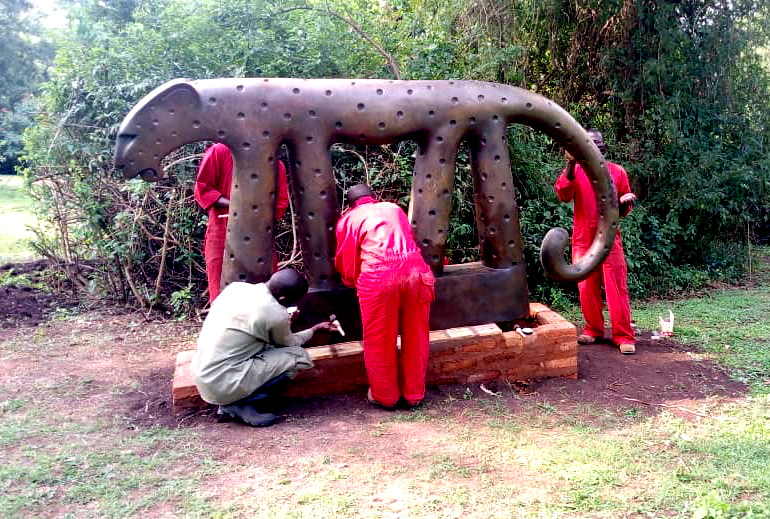 The Ruwenzori Sculpture Foundation was set up in 2004 with the intention of fostering cultural exchanges between Ugandan and British artists. In early 2005 three Ugandan trainees, selected for a three-year scholarship, arrived in the UK to be trained in all aspects of the bronze-casting process. They returned to Uganda to set up Rwenzori Founders Sculpture Foundry in 2008, adapting their knowledge to local conditions and the needs of local and visiting artists. That same year, I was asked to design a set of tribal clan totems for the Founders team to cast, exhibit and sell in their on-site gallery.
Initially I spent time at Makerere University in Kampala researching the customs of Uganda's tribal clans and their totemic animal emblems. Although these customs are still very much adhered to, any visual evidence of what form these totems might have taken no longer exists. To some degree that gave me licence to invent new sculptural forms to represent each clan. As the nature of the totems was intended to be symbolic, my designs had to be stylistic representations rather than naturalistic ones. Having completed my research, I eventually designed and supervised the making of over thirty different animal totems, many of which represented clans from the largest tribe in Uganda, the Buganda, but were also common to several different tribal groups.
In the intervening years the team of founders at Kyemihoko have cast many editions of these small bronze totems which are always on show for visitors to their award-winning art gallery. I have returned on several occasions to add to the collection and also to make larger works to be sited in the developing sculpture park. On my last visit in 2018, I was invited to help enlarge the Ngo, or Leopard totem, to add to the growing collection of outdoor works by both Ugandan and British artists. This large bronze has finally been completed and has been installed in the park by the Rwenzori Founders team this summer.
Related links:
www.ruwenzorisculpture.com
www.rwenzorifounders.com